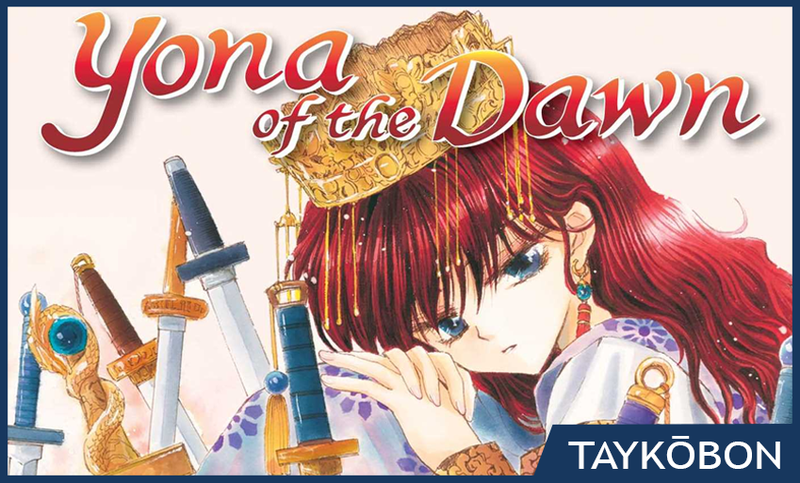 Princess Yona is forced to go on the run after tragedy tears her ideal life apart, and with enemies all around she'll have to decide who she can really rely on in the series that inspired the hit anime.
The Lowdown
Princess Yona, the only child of King Il of Kohka, lives a charmed life in Hiryuu where her only worries are burgeoning feelings for her cousin Su-won. Protected by her loyal guard, General Hak of the Wind tribe, Yona is sheltered from the growing criticism of her father's kindly and peaceful nature, and is overjoyed to see Su-won finally arrive back from the castle. However, tragedy strikes on the evening of her 16th birthday, forcing Yona to flee the castle and begin a new life on the run with Hak's help.
Click below for more manga reviews and a better reading experience!
How Was It?
The "young-royal escaping their kingdom" scenario isn't exactly the most original road for a series to take, but Yona of the Dawn did just enough differently with the way the story is set up to keep me interested throughout this volume with its enticing mix of adventure and romance. The story is set up well in the early going, with the first chapter laying out the general story beats effectively as Yona has her world broken. We see Yona's rather charmed life as the dynamic between her, her guardsman Hak, and her beloved cousin Su-won is shown, and while isn't anything here that is truly groundbreaking or surprising, I really enjoyed the way that mangaka Mizuho Kusanagi took her time in laying out Yona's flowery and idyllic outlook to emphasize the tragic shock she experiences to end the opening chapter. While these events might have lacked anything particularly surprising, I found myself getting swept up in the drama of it all when the action began in earnest as Yona made her escape from the castle. I was definitely satisfied with the way that the opening beats of Yona's adventure captured my attention, and the general premise was executed quite well in the early going.
Yona of the Dawn's adventurous got off to a fast paced beginning, but the pace slows down in the rest of the chapters which become a bit of a character building exercise. This ends up working out satisfyingly to flesh out the emotional undercurrent of the story by showing scenes Yona, Hak and Sun-woo's respective pasts. I especially enjoyed the way that the relationship between these three characters was shown in a charming flashback chapter which I thought added a lot of additional emotional weight to the overarching story line following Yona's escape. This also segued quite smoothly into Yona's process of dealing with her loss, and this central relationship helped to provide a strong pillar in selling the emotional heart of this series.
While the flashback chapter featuring the past of the three main characters was a strong addition to the story, I felt that the flashback chapter exploring Hak's past was an even stronger addition. This chapter showed how Hak came to be Yona's personal guard, and I really enjoyed the way that it explored his personality, motivations, and relationship with Yona in a meaningful yet funny way as he defended her from an unwanted suitor. The shift in perspective to Hak also helped to provide some effective characterization for Yona, and I felt that I learned more about the nuances in her personality in this chapter than I did in the rest of the volume. This chapter also provided some meaningful character revelations about Yona's father, and I enjoyed the way that this added to my understanding of the main story events as well as for the way that we got to see the charming dynamic between Hak and Yona developed further. This all put Hak's actions in the main story in helpful context, and I really liked the way that this chapter served to flesh out his general motivations effectively.

While the central dynamic between Yona, Hak, and Su-won is established quite effectively in the early going, one of my bigger gripes with this volume is that Yona herself is a little bit grating as a character. Although she does demonstrate a bit of fire on some occasions, it's hard to escape the fact that she spends a majority of this volume worrying about her love for Su-won, and generally being a bit of a brat. More than that, it really seemed like she was pushed forward only in reaction to other characters, and this didn't really make for the most compelling main character early on. I'm really hoping that she develops a little more personal agency as the series proceeds onward, and I was encouraged by seeing her emotions slowly explored in a few moments of reflection even if the payoff doesn't seem too apparent just yet.

Yona of the Dawn's art is definitely a strong point in the series favour, and I enjoyed the way that it complemented the tone of the story effectively. The character designs are pleasing and well drawn on the whole, and I had no problems following any of the panels as the story proceeded. Yona's idyllic life is accented well with softer and lighter panels, and as noted above this was juxtaposed for dramatic impact with darker panels and harder lines when her life begins to fall apart. Yona's eyes are also used effectively here, and I liked that way that they were centrally featured in many panels to showcase her emotions in a clear manner. This really emphasized the nature of her shock, and I really liked the way that the art helped to represent her emotional state in this tangible way.
Final Thoughts
Yona of the Dawn Vol. 1 is a strong start to this series thanks to the enjoyable sense of adventure conveyed by the beginnings of Yona's escape from her kingdom. Although the series doesn't do anything particularly groundbreaking, the main story is laid out pleasingly thanks to the emphasis on the relationships between the characters created by several strong flashback sequences. The character are also enjoyable, with Hak's portrayal a notable highlight which made up for Yona being a little bit hard to like in the early going. While it isn't perfect, Yona of the Dawn should definitely be on the radar of fans looking for the beginnings of a grand adventure with a dash of romance.
Yona of the Dawn Vol. 1 was translated by JN Productions and published by Viz Media on August 2nd, 2016. Authored by Mizuho Kusanagi, the series currently runs in Hakusensha's Hana to Yume magazine. Volume 2 will be published in English on October 4th, 2016.
https://www.amazon.com/Yona-Dawn-Vol-Mizuho-Kusanagi/dp/1421587815/ref=as_li_ss_tl?ie=UTF8&qid=1470607355&sr=8-1&keywords=yona+of+the+dawn&linkCode=sl1&tag=mdubs-20&linkId=851fd9c342fbface146499c088fb9a83
The links above help support us (not Gawker). Click here if you have questions!
---
Do you enjoy our reviews and want to support us? All you have to do is give us a follow on Twitter using this link! Every follow counts, thanks for your support!
We're Taykobon, your home for reviews of manga and light novels. Be sure to follow us on twitter@taykobon for more updates and to get the latest happenings! We strive to provide timely coverage of manga and light novel releases, for a listing of every review we've written you can check here. For more info about Taykobon, please check here. If you've read this work or have any questions or comments, we would love the hear from you in the comments below!
*Copy provided for Taykobon by publisher.