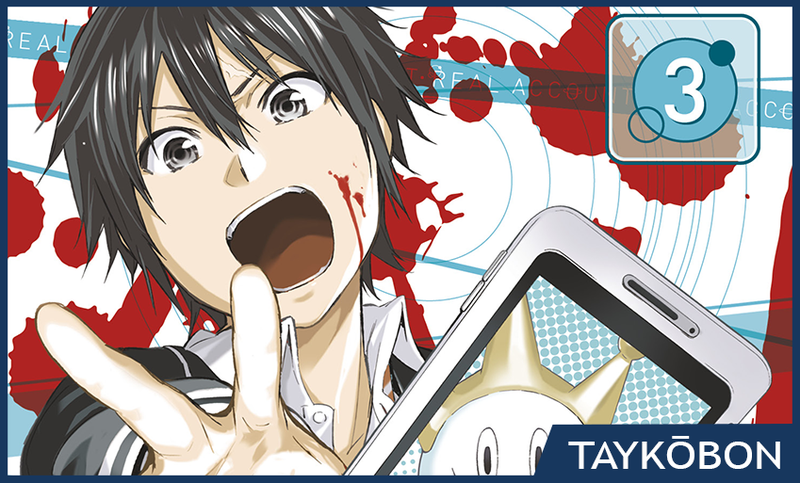 Ataru is still trapped in the game, but the story shifts to follow a new protagonist experiencing the first challenges faced in Real Account.
The Lowdown
Ataru Kashiwagi has survived everything thrown at him since becoming trapped in the social-networking site/death game Real Account, but this required his most shameful secret be revealed – that he took the identity of his well-liked twin identical twin brother after a terrible accident. After the shocking revelation showing that his brother "Yuma" is not only still alive, but also trapped in Real Account, the story shifts to follow Yuma as is sucked into the game and forced participate in new deadly challenges.
How Was It?
It had seemed fairly obvious how Real Account was likely to proceed after revealing at the end of the previous volume that Ataru's brother Yuma was still alive, but a shift in protagonist was definitely not what I had guessed. This swerve had an interesting effect on the story that defied my expectations, and I suspect that it bought the author a bit of time by creating an excuse to reuse the premise of the first volume once again in forcing the newly trapped "players" to survive initial social-media based challenges. The cast is entirely new here in following Yuma, his girlfriend Nanako, and another girl named Ayame, and the introduction of these new characters worked well to breathe some new life into the premise as they went through both old and new challenges.
The first part of the volume introduces Yuma and his girlfriend Nanako by showing their everyday lives before thrusting them into the game much like what happened to Ataru in the first volume. The parallels drawn between Yuma and Ataru are particularly interesting given the background we were given in the previous volume, and this worked really well to draw out a strong juxtaposition between the images of Yuma presented in this volume through his own narration versus the story told by Ataru. The small amount of time showing off aspects of Yuma's everyday life and relationships with others works particularly well during the "unfollow" game that begins his time in Real Account exactly as it began for Ataru volume one. However, it plays out satisfyingly differently in this case, and I thought the questions dramatically raised here in with regards to Yuma's relationships and self-perception made it worth seeing this game used once again.

I had expected that the next "challenges" in this volume would continue to mirror the events of the first volume, but I was pleasantly surprised to see that the participants were forced to survive in two new challenges that continues Real Account's trend of delivering a biting if slightly on-the-nose critique of social media practices. The first of these was a riff the practice of "liking" photos and the social dynamics involved there. It ended up being fairly interesting watching the players trying to guess whether more people had "liked' or "disliked" a picture, but it was sort of odd to see the rules of the game broken by Marble in a way that made for a bit of an odd read since rules were unfairly stacked against the players. This was a bit of a distraction because it made the deaths of the players feel arbitrary instead of at least somewhat within their control, and I would have preferred if the series had kept the trend of keeping the rules of the games consistent for the players. This made it feel a little bit silly when Yuma miraculously figured out the secret to surviving the game, and it felt like the story tried to be clever here but largely fell flat even if there was some surface level justification displayed here.
The second game was much stronger in making the players the stars of their own respective webcasts reminiscent of Twitch. The rules of the game forced the players to attract as many viewers of possible using any means possible, and this ended up being an interesting look at the exhibitionist means needed to attract viewers. While this was also used as an excuse to add a bit of fanservice, I felt that this actually made a lot of sense given the context of the game. Additionally, the final solution discovered by Yuma ended up feeling quite a bit more natural compared to the previous game, and I was really satisfied with the way that this game ended up. It was also interesting to see the dynamic between Yuma and Ayame developed very slowly, and I enjoyed the way that this was used to raise some questions about Yuma's relationship with his girlfriend in real life.
Final Thoughts
Although this volume didn't quite nail every aspect of the challenges it put the players through, I thought that it did a good job keeping the story fresh in following Yuma as he went through these challenges. The streaming challenge was done very well and made up for the photo liking challenge missing the mark, and overall if you've been reading this series because of the social criticism you'll find plenty to sink your teeth into here. The art is largely the same as the previous volumes to the extent that there isn't a whole lot to say there, but it continues to work well enough for the purposes of this series. Most of all, this volume does a good job setting up the inevitable meeting between Ataru and Yuma, and I'm definitely looking forward to seeing what will happen when they finally collide.
Real Account Vol. 3 was translated by Jonathan Tarbox and Kazuko Shimizu, and published by Kodansha Comics USA on July 26th, 2016. Authored by Okushou with art by Shizumu Watanabe, the series is ongoing in Kodansha's Weekly Shonen Magazine. Volume 4 will be released in English on September 12th 2016.
https://www.amazon.com/Real-Account-3-Okushou/dp/1632362368/ref=as_li_ss_tl?ie=UTF8&qid=1469203818&sr=8-2&keywords=real+account&linkCode=sl1&tag=mdubs-20&linkId=73070ce3e840931d0f6f7069762358fd
The links above help support us (not Gawker). Click here if you have questions!
---
Do you enjoy our reviews and want to support us? All you have to do is give us a follow on Twitter using this link! Every follow counts, thanks for your support!
We're Taykobon, your home for reviews of manga and light novels. Be sure to follow us on twitter@taykobon for more updates and to get the latest happenings! We strive to provide timely coverage of manga and light novel releases, for a listing of every review we've written you can check here. For more info about Taykobon, please check here. If you've read this work or have any questions or comments, we would love the hear from you in the comments below!
*Copy provided for Taykobon by publisher.
If you enjoyed this review, you may like these reviews as well: