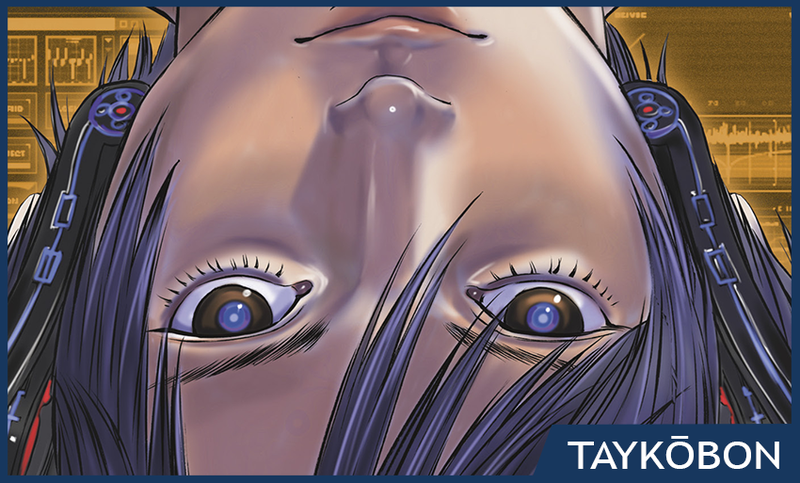 Inuyashiki may have stopped the monstrous gang-leader Samejima, Tokyo is still plagued by fellow cyborg Hiro Shishigami's cold-blooded murders.

The Lowdown
Ichiro Inuyashiki used his cyborg powers to relentlessly chase down and dismantle a vicious gang with unwittingly dangerous force, and became a hero when he saved a young couple in the process. Meanwhile, high-schooler and fellow cyborg Hiro Shishigami continues his brutal crime spree, but is forced to consider the morality of his actions when he finds out that his mother has terminal cancer. Disillusioned with his friend's continued killings, Hiro's pal Ando figured out that Hiro isn't the only cyborg, and manages to make contact with Inuyashiki. Together, Ando and Inuyashiki being training to finally put a stop to Hiro's crimes.
How Was It?
Inuyashiki's previous volume spent its duration putting Inuyashiki's powers to the test in a thrilling episode which saw him face off with the yakuza, and the first chapter of this volume brings this story to a satisfying conclusion. In particular, I enjoyed seeing Inuyashiki having another moment where he again contemplated the extent of his powers while shaking at the consequences involved. However, the payoff is apparent here when Inuyashiki reunites the couple he saved, finishing this arc on a happy note. More and more, this series has begun to use overt superhero imagery, such as Inuyashiki flying above the city having saved someone in scene reminiscent of Superman, and this clear evolution of Inuyashiki into a bona-fide superhero ties the end of last volume's arc into this volume's proceedings in a continually satisfying manner.

While the previous volume focused exclusively on Inuyashiki's heroic escapade, the focus in this volume is split between Inuyashiki and Hiro after the two are put on a path to confrontation. Inuyashiki and Hiro's friend Ando begin training together after teaming up to stop Hiro, and the imagery of an old-man being trained to use his superpowers by a teenager was a very interesting dynamic because of the inversion of the usual superhero archetype seen in many comparable works. This felt quite appropriate given this series reversal of the usual "young versus old" storyline, and this scene did a lot to explain Inuyashiki's powers to keep the plot moving effectively. It was also quite funny to watch Inuyashiki work to master his powers with Ando because of the funny trial and error process, and I liked that these training scenes provided some relief from the unrelentingly dark tone the series has put forward so far.

Inuyashiki's training sessions with Ando were interesting to watch, but the real highlight of their relationship in this volume was the way that their interactions served to continue the theme of Inuyashiki trying to rediscover his own humanity. Ando's inclusion into Inuyashiki's musings was really interesting to see because of the way that he was able to offer his own perspective on Inuyashiki's heroism, and this resulted in one of the most touching scenes of the series thus far. Additionally, I also liked the way that this volume continued to show Inuyashiki's determination growing thanks to those types of exchanges, and this culminated in a really nice scene which showed the effect he has begun to have on people in a tangible way. This was another excellent way that the inclusion of Ando into Inuyashiki's own storyline has helped, and I especially liked the way that his reactions to Inuyashiki's actions help to underscore Inuyashiki's heroism in a noticeable and meaningful manner.
Interspersed with Inuyashiki's training session with Ando were scenes showing Hiro's side of the story, and I really enjoyed these scenes for the way that they develop Hiro beyond being an unequivocal villain. We see Hiro's backstory developed for the first time, and learn that his mother is diagnosed with terminal cancer. I thought this was a great addition in terms of giving Hiro more humanity, and I really enjoyed the way that this was reflected in the art in this volume. During Hiro's conversations with his mother, the panels focus in on their eyes to help portray their emotions, and I thought it was interesting that for this first time in the series we could see Hiro's eye light up just a little bit. This was in stark contrast to the general lifelessness his eyes were drawn with during one of his home invasions in volume 2, and I thought that the contrast here was quite powerful in terms of showing him as a multi-layered person. The volume ends on a captivating note after developed this relationship, and it definitely made me want to read onwards especially with Inuyashiki's impending inclusion into this storyline.

Final Thoughts
Inuyashiki Vol. 4 is another strong volume in the series which does a great job moving the story forward in an interesting way. I especially enjoyed the way that this volume focused on the humanness of its characters, and this was powerfully shown in Inuyashiki and Ando's burgeoning relationship. This also came through well through Hiro's storyline, and even though he remains the main antagonist of this series I thought that it was really interesting to see a different side of him in this volume. With many plot threads coming to a head in this volume, I can't wait to see the eventual confrontation between Inuyashiki and Ando.
Inuyashiki Vol. 4 was translated by Stephen Paul and published by Kodansha Comics USA on June 28th, 2016. Authored by Hiroya Oku, the series is currently ongoing in Kodansha's Evening magazine. Volume 5 is scheduled to be released in English on October 18th, 2016.
The links above help support us (not Gawker). Click here if you have questions!
---
Do you enjoy our reviews and want to support us? All you have to do is give us a follow on Twitter using this link! Every follow counts, thanks for your support!
We're Taykobon, your home for reviews of manga and light novels. Be sure to follow us on twitter@taykobon for more updates and to get the latest happenings! We strive to provide timely coverage of manga and light novel releases, for a listing of every review we've written you can check here. For more info about Taykobon, please check here. If you've read this work or have any questions or comments, we would love the hear from you in the comments below!
*Copy provided for Taykobon by publisher.
If you enjoyed this review, you may like these reviews as well: